A Special Message From Nick Symmonds...
PLEASE TURN ON YOUR SPEAKER
When we launched Run Gum in the summer of 2014, we knew we had a great product...
...But we also knew we could one day be even better.
It has always been our mission to make the best tasting, best chewing piece of energy gum ever created. We have spent the last 12 months tirelessly working on improving our product, while still providing
you the boost you need to go further, accomplish more, and Run The Day!
We listened to our customers about the improvements they would like to see and worked with our manufacture to tackle many of those.
And here they are.
The 5 Improvements made to Run Gum:
Less Ingredients

At the request of a large and loyal fan base we removed ingredients that weren't needed. Titanium dioxide and confectioner's glaze are no longer used in Run Gum.
Confectioner's glaze created a candy coat that is no longer on our gum. Plus it a product our vegan friends can use with certainty and assurance. 
Purity Tested
Be 100% certain that what our package says is what is actually in the gum.  Run Gum is tested under the highest standard of purity testing in the nutraceutical industry.  Tested for over 950+ Environmental Contaminants. 
As a professional runner taking numerous drug tests, CEO Nick Symmonds has to be certain what is in his product... you can be now too!
HURRY, LAST DAY OF COUPON CODE
HOLIDAY17
ENDS IN:
00

Days

00

Hours

00

Minutes

00

Seconds
Looks like you just missed this offer!
Shop our store for our latest deals - 100% FREE SHIPPING ON ALL ORDERS IN THE USA!
ADDITIONAL 5% OFF
OUR HOTTEST HOLIDAY PRODUCT
THE STARTER BUNDLE
Perfect for stocking stuffers for the fitness junkie or that high-performing loved one.
What's Included:
One(1) 12-Pack of Each Flavor (Mint, Cinnamon, Fruit)
36 Total Packs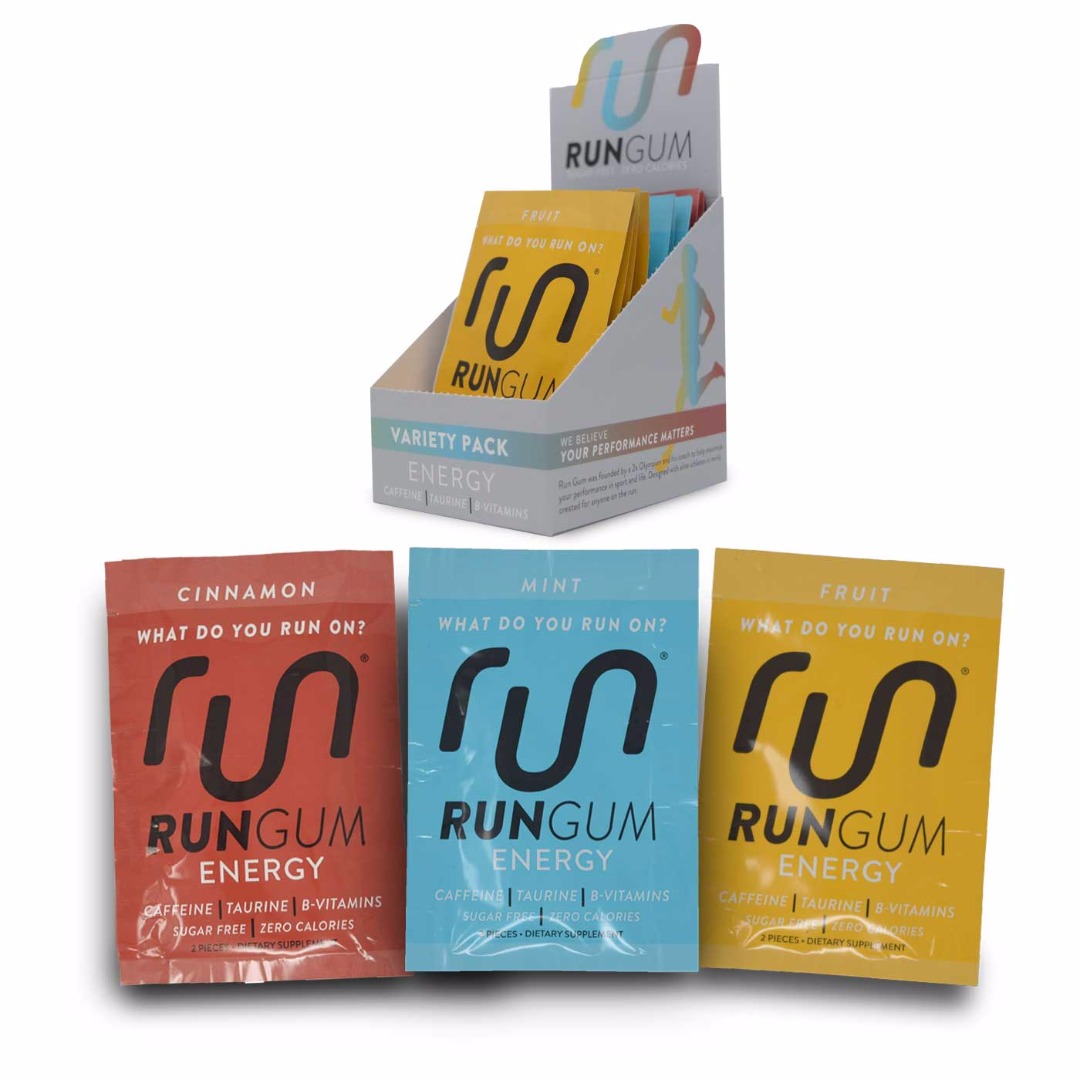 The Billboard Trucker Hat