Run Gum CEO, Nick Symmonds Climbs Mt. Hood in Oregon
Third Time is a Charm #NSAdventures
Hey, I'm Nick Symmonds, CEO of Run Gum. I am also a 2x Olympic Runner and avid mountain climber.
I created Run Gum with my coach Sam Lapray after 10+ years competing at a high level on the track. Needing a faster way to absorb caffeine without filling up my stomach, I turned to chewing gum.
Now as I pursue climbing mountains, Run Gum gives me lightweight energy boost to get me to the summit.
ONLY 1 WEEK LEFT TO CLAIM YOUR

RUN GUM 20% OFF CODE!
00

Days

00

Hours

00

Minutes

00

Seconds
Shopping for the First time? Use Code Run10 For 10% Off.
YOU WILL HAVE THE ENERGY NEEDED TO GET THROUGH THE DAY
Have a quick boost of energy when you need it the most. Up to 5x faster kick.



Simply chew one or two pieces for a few minutes and through absorption in your mouth,

get the energy faster.



Run Gum allows you to have a quick, 

convenient

 energy boost whether you are

running a marathon, running a meeting or running the kids town.
YOU WILL BE AMAZED BY THE FOCUS AND ALERTNESS 


Caffeine is consumed by 90% of Americans and 75% of athletes competing in international events. 



The

act of chewing gum can significantly increase alertness

, help reaction time and increase the speed of processing new information.




 




Two (2) pieces of Run Gum have the same amount of caffeine as a

cup of coffee or energy drink.



ENERGY FOR ALL OCCASIONS AND ALL PROFESSIONS  
Run Gum is used by hard working individuals and athletes of all levels, including Olympic athletes, firefighters, NFL players, the military, students and more.



Perfect for maximizing your performance

during your workout, getting through the afternoon slump, study sessions and those late night drives. 




MADE IN THE USA: Manufactured, packaged and shipped out of the USA with 50mg of caffeine per piece.

Use coupon code
RUN
SUMMER
 at checkout for
2
0% off!
Thank you for being a part of our ever growing community, and being with us all look to have a great spring and summer!
$1.88 per Pack (100mg of Caffeine)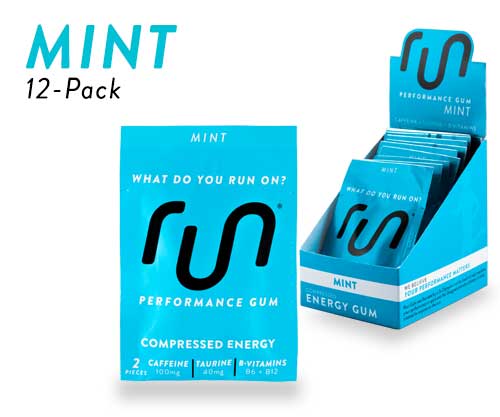 $1.88 per Pack (100mg of Caffeine)
$1.88 per Pack (100mg of Caffeine)
$1.88 per Pack (100mg of Caffeine)